4 Examples of Agricultural Technology Applied in Indonesia
07 September 2023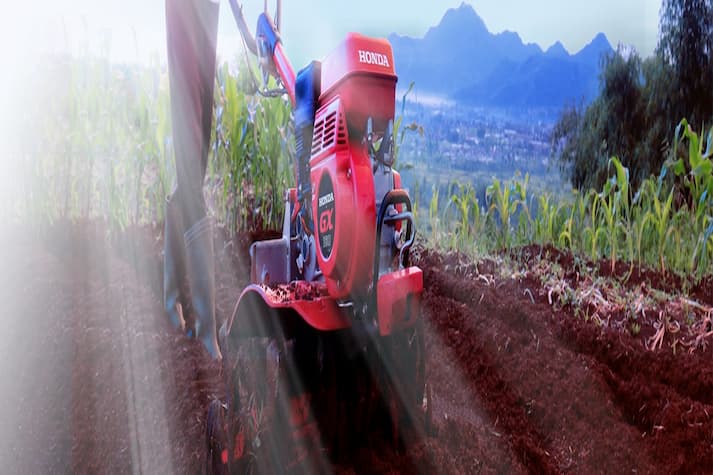 Agriculture is an important sector of human life, as it can provide the food needed for daily life. Therefore, several examples of agricultural technology are significant in efforts to increase productivity and efficiency in the farming sector.
In Indonesia, agricultural technology has begun to be applied to help farmers increase harvest optimally. To find out what agriculture technology has been applied in Indonesia, let's see the full description below.
Benefits of Agricultural Technology
Agricultural technology is expected to assist farmers in facing challenges such as climate change, land limitations, and increasing market demand. Therefore, the benefits of using agricultural technology are enormous both for farmers and society as a whole. Check out some of these farm technology benefits below.
1. Increasing Agricultural Productivity
Agricultural technology can provide significant benefits in increasing agricultural productivity in Indonesia. The presence of agricultural technology, such as irrigation systems that use Honda water pump machines, allows farmers to save time and energy in the production process.
Using spraying equipment that uses multipurpose machines can also increase efficiency in controlling plant pests and diseases. When agricultural productivity increases, farmers can quickly meet market demand. It certainly has a positive impact on the Indonesian economy and the welfare of farmers.
Read also: 6 Types of Agricultural Spray
2. Reducing Production Costs
In addition to increasing productivity, agricultural technology can help farmers reduce production costs. Farmers can reduce production costs, particularly fuel and maintenance expenses, using agricultural technology such as tillage machines and sprayers that use multi-purpose machines.This reduction in production costs can increase efficiency and harvest profits.
3. Improving Agricultural Product Quality
Agricultural technology also contributes to improving the quality of farm products in Indonesia. For example, when farmers use technology such as organic fertilizers and irrigation systems, farmers can produce healthier and higher-quality plants.
Using appropriate land processing technology and selecting suitable plant varieties can also improve the quality of agricultural products. It can help farmers meet quality standards set by the market and increase the competitiveness of agricultural products in local and international markets.
The increasing quality of agricultural products also positively impacts consumer health and the surrounding environment. Therefore, the appropriate use of agricultural technology needs to be increased and developed sustainably in Indonesia.
4. Increasing Environmental Sustainability
The use of agricultural technology can also increase environmental sustainability by reducing the use of harmful chemicals and improving agrarian waste management. For example, the use of organic fertilizers and irrigation systems can reduce the use of toxic substances and maintain soil ecosystem balance.
4 Examples of Agricultural Technology Applied in Indonesia
Agricultural technology has become increasingly important in modern times to improve productivity, reduce production costs, and enhance the quality of farm products. Here are some examples of agricultural technologies that have been applied in Indonesia and have significantly contributed to the development of the farming sector. Let's take a look below.
1. Multipurpose Sprayer
Sprayers are crucial agricultural technologies that help farmers protect their crops from pests and diseases. This sprayer uses a multipurpose engine as its power source, making the spraying process more efficient and suitable for hard-to-reach agricultural land.
Honda offers the GX160T2 SD engine for high-pressure sprayers, known for its reliability, superior performance, and low noise, emissions, and vibration levels.
2. Hand Tractor
Hand tractors are popular agricultural technologies in Indonesia that help farmers cultivate their land, including plowing, weeding, planting, and harvesting crops. This technology enables farmers to work faster and more efficiently.
Honda provides the Tiller-F300 hand tractor, suitable for weeding vegetable fields, sugar cane and cotton plantations, banana farms, and flower gardens. It is equipped with a 4-stroke OHV gasoline engine that provides optimal power.
3. Drip Irrigation System
Drip irrigation is an agricultural technology that helps farmers save water for crop irrigation. This system works by slowly delivering water to plants through pipes and hoses placed on the ground.
Honda offers various water pumps that can be used for drip irrigation according to the farmer's needs. Honda's water pumps are equipped with exclusive technology, reliable features, and details and are supported by commercial-class 4-stroke Honda engines.
4. Grass Chopper
Grass choppers are useful agricultural technologies that help farmers convert agricultural waste into high-quality animal feed. For example, farmers can quickly turn straw and grass into ready-to-use animal feed. This technology saves time and energy for farmers and reduces agricultural waste that is usually difficult to process. Therefore, grass choppers are vital in improving livestock production efficiency and agricultural sustainability.
Read also: The Function of Sprayer for Farmers
In efforts to increase productivity and efficiency in the agricultural sector in Indonesia, the use of agricultural technology is crucial. Agricultural technologies such as multipurpose sprayers and hand tractors benefit farmers, especially regarding time efficiency.
If you need agricultural technology such as multipurpose engines or hand tractors, you can visit Honda Power. Various agricultural tools equipped with advanced technology make farming more accessible and more efficient. Find the best and most reliable multipurpose engines and hand tractors according to your needs only at Honda Power Products!
Honda Power Products Indonesia
Honda Power Products menyediakan mesin serbaguna, generator, pemotong rumput, pemotong sikat, pompa air, dan mesin tempel.
Related Posts