Honda Marine Dealer Conference 2018
03 December 2018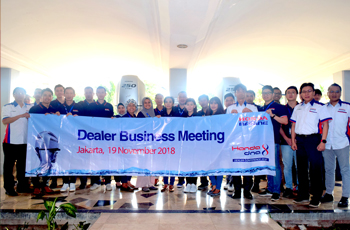 Jakarta, November 19, 2018- PT Honda Power Products Indonesia as Single Agent Brand of Honda Marine in Indonesia hosted 14 dealers during its 3th annual Honda marine dealer meeting in Jakarta.
The three-day event wrapped up Tuesday with the company showcasing New Refreshed and Improved Honda BF250. with main theme "Honda DNA". This event was attended by 3S dealer from around Indonesia and filled with Business & Strategic Meeting session and Awarding Night
Focus on strengthening the dealer network and HPPI's commitment to the Indonesia Marine Market, Honda DNA is very essential in order to increase Market share in Indonesia.
In addition, thank for dealers who have given their maximum effort to sale Honda Marine Products.