Types of Irrigation Water Pumps from Honda and How They Work
23 October 2023
This type of irrigation water pump is usually used for supplying and supporting agriculture. For example, to carry out irrigation for rice fields, irrigation for fish ponds, irrigation for underground water, as well as for the needs of construction.
Irrigation means the artificial flow of water from existing sources to a plot of land in order to meet either permanent or temporary needs. The working principle of pump irrigation is to take water from the source, then flow it to the agricultural land, then distribute it to the plants.
Distribution of water in the irrigation system can be done through open and closed channels.Irrigation system with water pump includes two main components. First, a water storage tank as a reservoir to make the distance from the water source to agricultural land closer.
Second, water distribution can be done in a closed or open way, depending on the land to be flowed by the water. For irrigation in rice fields, irrigation can be done openly, while irrigation for plantations can be done in a closed manner.
Water pump irrigation activities are prioritized on agricultural land which it have problems or lacks of water, especially during the dry season. To do this water pump irrigation, you can use centrifugal pump types, diesel and gasoline drives, and a maximum pump diameter of 3 inches.
Honda provides a type of centrifugal water pump that can help you irrigate water quickly and efficiently. There are several types of irrigation water pumps from Honda that you can use according to your needs. Read more in the description below.
Types of Honda Irrigation Water Pumps
To speed up the irrigation process, Honda provides a water pump that you can use according to the size of the land. You can adjust it according to your needs, including the size of the suction hole to the drain hole. There are several types and types of Honda water pumps that you need to know before planning to have one, so you can determine exactly. Here are the specifications and advantages.
1. Water Pump WB20XN NF and WB30XN NF
The WB series water pump from Honda is one of the most impressive pumps Honda has. The volume of water produced by this water pump has been designed according to your expectation.
The maximum irrigation capacity of this NF WB20XN Water Pump type is 670 L per minute. Meanwhile, the WB30XN NF Water Pump has a maximum irrigation capacity of 1,100 L per minute. You can do watering more quickly using this type of water pump.
Equipped with a 4-stroke Honda GX160 engine that drives this water pump, making it easier to start, easy to use, fuel efficient, lasts longer, and lower emissions.
Diameter suction and drainage hole for the WB20XN type is 50 mm or about 2 inches. Meanwhile, the dimensions include a length of 485 mm, a width of 385 mm, and a height of 405 mm. The dry weight itself reaches 24.15 kg.
Meanwhile, for the WB30XN series water pump, the size of diameter suction and drain hole is 80 mm or 3.1 inch, larger than the previous series. You can use this water pump if your agricultural land is large enough
2. Water Pump WL20XN NF and WL30XN NF
The WL20XN and the WL30XN NF come with a new color and high performance, suitable for various applications, including rice fields and plantation irrigation. The 4-stroke GP160 engine embedded in the two water pumps can be used for daily use. The engine is also easy to turn on, fuel-efficient, and has low emissions.
For the WL20XN, the inlet and outlet ports are 50 mm or 20 inches. While the maximum irrigation capacity reaches 670 L per minute.
Meanwhile, for the WL30XN type water pump, the diameter suction and drain hole is 80 mm or 3.1 inches. For maximum irrigation capacity reaches 1,100 L per minute. The dry weight of this type of pump is 25 kg, slightly heavier than the WL20XN type.
3. Trash Pump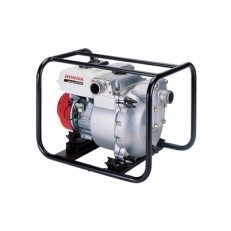 This water pump is designed to pump large amounts with containing mud, leaves, twigs, sand, and so on.
You can see the application of these pumps in various types of industries, such as wastewater treatment, mining, agriculture, chemistry, pharmaceuticals, and various other large types of industries.
Honda provides a trash pump that is ideal for special functions and applications that require high volumes of filtering water. These water pumps consist of several types, including Trash Pump WT20XK4, Trash Pump WT30XK4, and Trash Pump WT40XK3.
Powered by a commercial Honda GX series engine that is easy to start and has reliable power to operate in tough conditions. You will get a 1-year warranty if you have a trash pump, WL, and WB type water pump at Honda.
Get a water pump from Honda right now only at Honda Power Products. Feel the ease in irrigating your rice fields and plantations. Also contact us further to get more complete information about this type of irrigation water pump.
Honda Power Products Indonesia
Honda Power Products menyediakan mesin serbaguna, generator, pemotong rumput, pemotong sikat, pompa air, dan mesin tempel.
Related Posts