Brush Cutter
The Honda brushcutter is proving smooth to operate with low vibration and medium noise levels.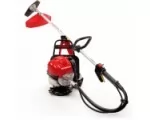 Brush Cutter
Brushcutter - UMR435N
Mini 4-stroke OHC engine, working through a full 360 degree with 2-blade cutter.
Pipe Frame (Loop Handle), Flexible shaft reduces vibration, offers high durability and maximum torque power.
with New Technology : Throttle Lever (Twin Throttle), Nut Cover, Gear Assy with ANTI DROP SYSTEM.
Brush Cutter
Brushcutter - UMK450T
Honda Brush Cutters offers homeowners and professional landscapers a pleasant alternative. Equipped with Honda high efficiency, mini 4-stroke engine, the product delivers both power and silent operation for a more pleasant operating experience and top notch results.