10 Types of Lawn Grass for a Beautiful Garden
23 October 2023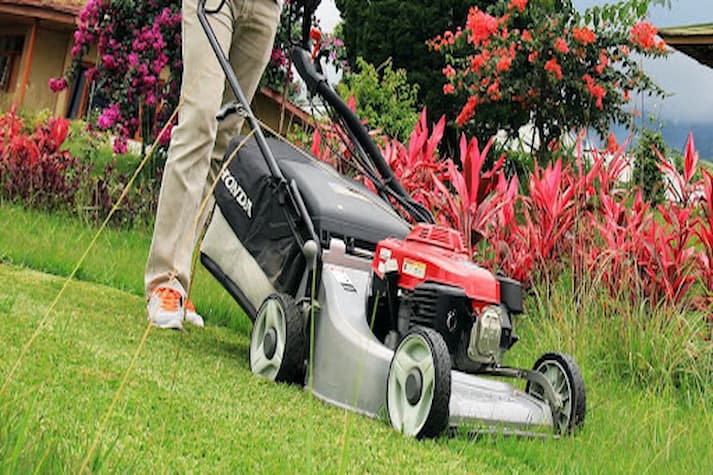 Do you have an empty lot in front of your house? It's best to use the lot wisely, such as by creating a garden to relax. To make your garden at home even more comfortable, you can add various types of lawn grass. There are Japanese grass, elephant grass, and others. You can adjust it to your taste.
Your garden grass needs to be well taken care of so that your garden always looks neat and beautiful. One way to do this is by trimming the garden grass when it begins to grow long. To make it more efficient to tidy up the garden, you can use Honda's push lawnmower, which offers the best cutting results.
Honda's push lawnmower offers outstanding performance and reliability. In addition, it was equipped with an exclusive double-blade engine that could cut grass into smaller and neater pieces.
Using Honda's lawnmower, you don't have to collect grass clippings. Why? Because the machine is equipped with a bag, the grass clippings will go into the bag. So, your job will be more time and energy-saving, of course, more efficient as well.
Lawn grass consists of various types, but you only need one lawnmower to tidy it up, which is Honda's push lawnmower. To make your garden match your taste, choose the type of lawn grass you think is appropriate. So, let's get to know the various types of lawn grass in this discussion.
Types of Lawn Grass for a Beautiful Garden
The most suitable type of lawn grass for a beautiful garden is decorative grass. Many kinds of ornamental grass can increase in the tropical climate. Its maintenance is also effortless. You only need Honda's push lawnmower to trim it periodically. Then, what are the types of lawn grass that you can choose? Let's find out in full below.
1. Elephant Grass
Elephant grass has several types: mini elephant grass, mini variegated elephant grass, and giant elephant grass. The growth pattern of mini elephant grass is sideways, so the leaf size is not too large.
Meanwhile, the size and growth of the mini variegated elephant grass are the same as mini elephant grass. Only there is a white color on its leaves. So, that is what makes mini-variegated elephant grass appealing.
Of course, its size and growth are much more significant for large elephant grass than the previous types. Therefore, it is suitable to be placed in extensive gardens.
2. Manila Grass
This type of lawn grass is the most commonly found on soccer fields as it is weather-resistant and can withstand foot traffic. In addition, you can use Manila grass to beautify your home's landscaping.
However, for it to grow well, Manila grass requires regular maintenance, including fertilizing, watering, and trimming. You can achieve a neat trimming process by using Honda's push lawnmower, which is equipped with the Honda GXV160 OHV engine and features an engine brake for the safety of its users.
3. Japanese Grass
Japanese grass is one of the most commonly used lawn grasses in home landscaping. Its curved and thin shape makes it more even and densely packed. However, because of its curved and thin shape, you may not feel as comfortable sitting on it. Therefore, it's essential to perform regular maintenance by trimming it once a month.
4. Peking Grass
Peking Grass has a small, curved, thin, and neatly packed appearance, like Japanese grass. Generally, Peking Grass grows less frequently than Japanese Grass.
If you don't maintain it regularly, the Peking Grass will not grow thickly, and its bottom will be yellow due to lack of sunlight. To keep your home's landscaping neat, regularly trim the Peking Grass in your home's landscaping. You can rely on Honda's push lawnmower to maintain the Peking Grass.
5. Swiss Grass
Including the finest type of grass, Swiss Grass is known to have a captivating and neatly packed appearance. However, maintaining Swiss Grass requires high diligence by keeping it moist and regularly trimming it, as well as fertilizing it to prevent weeds from growing around it, which can disturb the growing space of Swiss Grass.
6. Golf Grass
As its name implies, Golf Grass is the same type of grass used on golf courses. Culturing this grass is becoming more popular, making it easy for your home's landscaping to use Golf Grass. The smooth appearance of Golf Grass makes your garden look neat.
Its wavy and textured shape makes Golf Grass one of the favorite types of lawn grass. Its growth is also vertical, so Honda users won't have difficulty trimming it. Using Honda's lawnmower can result in an elegant trimming outcome and efficient usage.
7. Bermuda Grass
Another type of grass is commonly used for golf courses but is already familiar as a landscaping complement for homes. If your home is in an area with relatively high rainfall, it is highly recommended to use Bermuda Grass.
Bermuda Grass can grow quickly and thickly in such weather conditions. However, trim it regularly to keep it short and neat. The Honda push lawnmower is perfect for maintaining Bermuda Grass.
8. Centipede Grass
Centipede grass is suitable for homes located in tropical and moist regions. It will grow well if you plant it in areas that often receive rain and warm temperatures.
However, centipede grass is fragile and can't withstand heavy foot traffic. So, you can use this grass in rarely stepped-on areas. Its maintenance is also easy; provide fertilizer and mow it regularly.
9. Perennial Ryegrass
You residing in Bandung and Bogor are suitable for using perennial ryegrass as an aesthetic complement in your home gardens. This type of grass is ideal for cold climates but is still heat-resistant.
The texture of this grass is vital so that you can use it for various activities. Make sure you always maintain the grass well. Mow it regularly, at least once a month, or as needed. Use a Honda lawnmower that is easy to operate.
10. Mini Kucai Grass
Those with a mini garden inside their home can use mini kucai grass as an aesthetic complement. This type of grass can also grow well without being exposed to sunlight.
However, it's still important to consider air circulation and light in the home. It's also important to trim it regularly. Even though the size of your indoor garden is t too big, mowing the grass needs to be done efficiently using a Honda lawnmower that has reliable features.
The grass cuttings from Honda's machine are also safe for livestock consumption because the exhaust doesn't mix with oil. Unlike 2-stroke engines that use fuel mixed with oil.
Read also: Inilah Mesin Potong Rumput Terbaik Bulan Oktober 2022
Get the Honda LAWNMOWER - HRJ196 from Honda Power Products. You can use the machine to trim various types of grass in your home garden. Make your home garden look beautiful and tidy with a Honda lawnmower.
Honda Power Products Indonesia
Honda Power Products menyediakan mesin serbaguna, generator, pemotong rumput, pemotong sikat, pompa air, dan mesin tempel.
Related Posts