Cultivator Functions, Farmer's Best Friend
29 November 2023
A cultivator is one of the essential tools to assist in farming activities. All soil processing up to weed destruction are examples of how useful cultivator functions are for farmers. Before the existence of cultivators, people in ancient times had found a way to cultivate the soil by using livestock. Cows and buffaloes were often used to till the soil when planting time arrived.
However, all of that began to be abandoned because cultivators could provide the same results but with a faster time. There are still many other reasons why cultivators are important and referred to as a farmer's best friend. Check out all the information below.
Cultivator Functions
The presence of cultivators in agricultural activities is vital for many reasons. It started from shortening time to lightening the workload to improving the quality of agricultural results. All of these can also be felt when using a cultivator because of its many functions, such as the following.
1. Reducing Manual Labor
The use of cultivators by farmers can mechanically cultivate the soil and efficiently destroy weeds, thus minimizing the manual labor required. So farmers no longer need to spend all day just pulling weeds manually.
Read also: 5 Differences between Traditional and Modern Agriculture
2. Increasing Harvest Yield
Cultivators are helpful for deep tillage and breaking up rocks or clumps of soil, thus improving soil quality. Good soil will make plant roots grow and improve the air circulation needed for plant growth.
In addition to destroying weeds, cultivators can control them so that weeds do not disturb the growth of planted crops. It will allow plants to grow optimally and increase the harvest yield obtained by farmers.
3. Improving Soil Quality
All the cultivator functions mentioned are useful for improving the quality of the soil to be used. Because the soil must always go through the process of tillage every time it is to be used.
This is done at the beginning so farmers can maintain the growth of the plants to be planted quickly. By preparing everything from the beginning, the farmer's work in the future will be manageable.
4. Adding Soil Aeration
Aeration is the process of adding oxygen to water. You must have seen aeration in fish aquariums from the presence of air bubbles. The workings of soil aeration are similar, but not with oxygen equipment like aquariums.
Through the use of cultivators, the soil will get the oxygen it needs. Cultivators can also be used to create ditches in the soil so that rainwater can flow adequately and improve soil aeration. The addition of oxygen in the soil will ultimately have an impact on optimal growth.
Plant roots will receive the full nutrition they need to become healthy plants. Therefore, cultivators are very important for increasing soil aeration and making the soil more fertile for plant growth.
5. Facilitating Weed Control
When a cultivator is used, the soil and weeds can be tilled together so that the weeds are also spread. This will reduce weed growth in the future so that plants can grow well. Later, when there is rainwater, the weeds can be flooded and drained through the ditches that have been created beforehand.
Cultivator Recommendation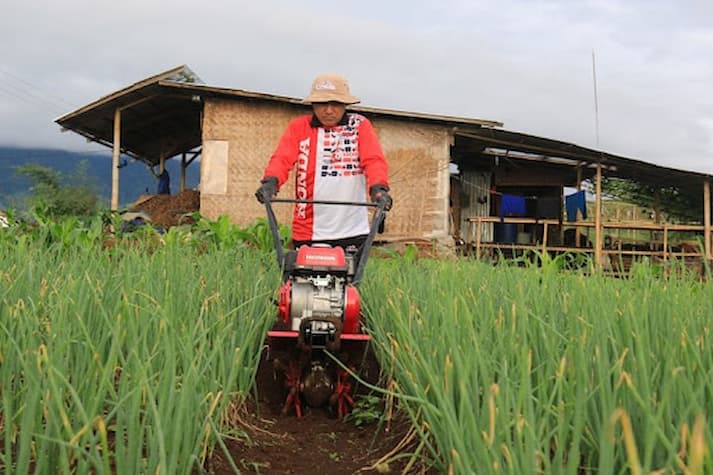 By now, you should understand how important it is to use a cultivator in agriculture. You can see for yourself its usefulness in not only lightening the workload but also impacting the harvest's quality.
Read also: 2 Types of Tractors based on their Functions
Its crucial role requires you to choose the best cultivator that can be used for a long time. Although it may not be cheap, you can consider buying a cultivator as a long-term investment. Honda Power has two high-quality cultivators that you can choose to help with your agricultural work. Take a closer look at each machine's description below.
1. Tiller-F300
The Tiller-F300 is a cultivator designed to help farmers pull out weeds on various plantations. Regardless of the plants grown, such as sugar cane, bananas, flowers, all can be done with the Tiller-F300.
This cultivator is already equipped with the best 4-stroke engine, OHV (Over Head Valve), and air cooling for optimal engine performance. Equipped with the GX80D model engine, you can feel maximum power of 2.0 HP with 4.5 Nm/2,500 rpm of torque.
The ignition system also uses Transistor Magneto Ignition, which ensures efficient and optimal combustion processes.
2. Cultivator-FJ500
If you need a cultivator with more powerful capacity, then the Cultivator-FJ500 is the right choice. Equipped with the GX160 engine, which uses a single cylinder, 4-stroke, OHV, and air cooling, its performance will undoubtedly be optimal in helping your work.
The power output can reach 4.9 HP/3,600 rpm. If that's not enough, you can also add other equipment such as a ridger, miracle rotor, and star rotor to improve productivity and soil quality. Its fuel consumption is very efficient with the Transistor Magneto Ignition ignition system, so you don't have to worry about increasing fuel costs.
The various cultivator functions discussed above can be the answer for everyone who needs help in their agricultural activities. Work can be completed quickly, and the harvest quality will increase to enhance market value.
Remember to choose the best cultivator that suits your needs. Two cultivator machines from Honda Power can be your choice as their quality is guaranteed with warranties and the best services you can get. Visit Honda Power Product now to get the superior machine that meets your needs!
Honda Power Products Indonesia
Honda Power Products menyediakan mesin serbaguna, generator, pemotong rumput, pemotong sikat, pompa air, dan mesin tempel.
Related Posts