10 Honda 4 Stroke Generator Recommendations
24 October 2023
For those of you who want to use an electric generator for daily needs, it is important to know several types of generators for comparison. There are several recommendations for Honda generators, starting from portable generators for camping to generators for household needs.
To choose a Honda generator according to your needs, it is also important to understand exactly how this generator works. The working principle of an electric generator is based on the principle of electromagnetic induction; by rotating a coil in a magnetic field, resulting in an induced electromotive force.
The circular motion of the coil can create a voltage difference between the two ends of the cable or electrical conductor. When the engine from the generator works, the electric charge will flow and produce an electric current.
Once you have a clear description of the working principle of this electric generator, you can easily choose recommendations for Honda generators which has various needs. Below is an explanation of the recommendations from each of these generators.
Honda 4 Stroke Generator Recommendations
Do you had a good understanding in the working principle of the electric generator? If so, here are some recommendations for a 4 stroke Honda generator that you can adjust to your needs. Let's look at these recommendations.
Generator Recommendations for Household Needs
1. Generator EU30is
EU30is is equipped with eco-throttle technology that adjusts engine speed to meet load demands. This technology can improve fuel efficiency and reduce noise when used.
Apart from that, this generator is also equipped with a microcomputer-controlled sinewave inverter which can guarantee that the electricity it produces is of commercial quality. This generator is also ideal for sensitive electrical equipment such as computers.
2. Generator EU70is
Equipped with 4-stroke GX390 engine with Electronic Fuel Injection system, EU70is provides a maximum AC output of 7,000 watts and an average output of 5,500 watts. The fuel capacity of this generator is 19.2 liters with 6,5 hours long operating time (full load). You can use this generator for various household needs, especially when there is a power outage.
Read also: Understanding The Way Generator Work
3. Generator EZ6500CXS
EZ6500CXS is designed for long-term use even under the toughest working conditions. Maintenance is easy, the engine is easy to start, the generator is also easy to use, and low vibration.
Equipped with the best quality materials, this generator can be used as a perfect partner for professional construction activities and home use. This generator has low vibration and noise levels and is fuel efficient. It is very suitable for various household needs.
Portable Genset Recommendations for Outdoor Activities
1. Generator EU10i
If you need a small and portable generator with 900 watts of power output, you may choose the EU10i. This generator is one of the advance products offered by Honda. Equipped with inverter technology, this generator has efficient fuel management and stable power output.
The generator offered by Honda offers peace of mind, because the sound generated is not noisy, so you won't be disturbed even if you use it at home. The shape is compact with a light weight. So, you won't have any trouble carrying it around, especially when doing outdoor activities, such as camping.
2. Generator EP1000 R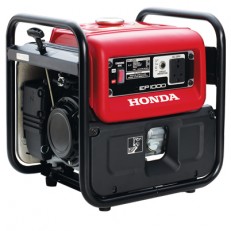 EP1000 R offers economical fuel efficiency. This generator can operate between 6 - 7 hours for one refueling (depending on load demand). This generator is also equipped with advanced 4-stroke technology, which is capable of producing 0.75 kVa of power for more optimal fuel efficiency. For the type of engine itself consists of air cooling, 4 stroke, and single cylinder.
You can use this generator for various household needs and small medium businesses. The size of this generator is quite large, but you can still carry it for outdoor purposes.
3. Generator EU22i
For you who wants to go on vacation and need a backup power source, you can bring the EU22i. This generator has the best performance with a smaller size. It can be used to supply electricity to various electronic devices such as laptops, cellphones, and others.
4. Generator EZ3000CX
For light use of electrical energy, you can use the reliable EZ3000CX, because it is equipped with the best basic Honda features. The price is also affordable and easy to use.
This generator has low vibrations when you use it so it is more environmentally friendly. Beside that, the maintenance is very easy, considering that Honda dealers are also spread in almost all cities in Indonesia.
Read also: 8 Generator Components And Their Functions
5. Generator EP2500CX
This generator is equipped with the legendary GX engine; easy to start, strong, and reliable. Therefore, you can easily rely on the EP2500CX Generator for various outdoor activities. For simple control and operating time of this type of generator is 13 hours for average load.
Generator Recommendations for Business
1. Generator ET120000
For Honda friends who need a generator with a continuous usage time of 6.5 hours, you can use the ET12000. Equipped with a built-in 4-stroke engine that can increase the stability of the electricity generated.
This generator is available for gasoline fuel type, with an optimal safety system, quality and design. The tank volume in this generator is quite large; 31 liters. So it's not surprising that ET12000 can be used for quite a long time.
2. Generator EM10000
This 8 kVa gasoline generator is suitable for household needs and small and medium businesses. The EM10000 generator is equipped with a starter key which makes it comfortable to use. The noise level is also around 99.3 Lwa, which means it doesn't make a loud sound and tends to be smooth. The operating time of this generator is 6.5 hours for continuous use.
The majority of Honda generator recommendations offer a quiet sound, because the sound generated is quite smooth. This is of course also related to the working principle of an electric generator that is able to work optimally.
Honda also offers flexible generators for outdoor activities. There are also those that are suitable for household and medium-sized business needs.
For those who want to camp or do outdoor activities and need a backup source of electricity, you can also use one of the recommendations above and choose it according to your needs.
In addition, Honda generators have advantages in fuel efficiency, making them more cost-effective, especially when the total usage time is quite long. This is the advantage you will get if you use Honda generator.
For those of who want to do monthly and yearly servicing, you can also do it at the nearest Honda repair shop. The availability of spare parts is also easy to find, so you can easily do the maintenance for your generator.
Let's get the best and most trusted generator according to your needs only at Honda Power Products. Contact us to get more further information of generators specifications you want.
Honda Power Products Indonesia
Honda Power Products menyediakan mesin serbaguna, generator, pemotong rumput, pemotong sikat, pompa air, dan mesin tempel.
Related Posts