10 Landscape Garden Design Ideas and How to Create Them
24 October 2023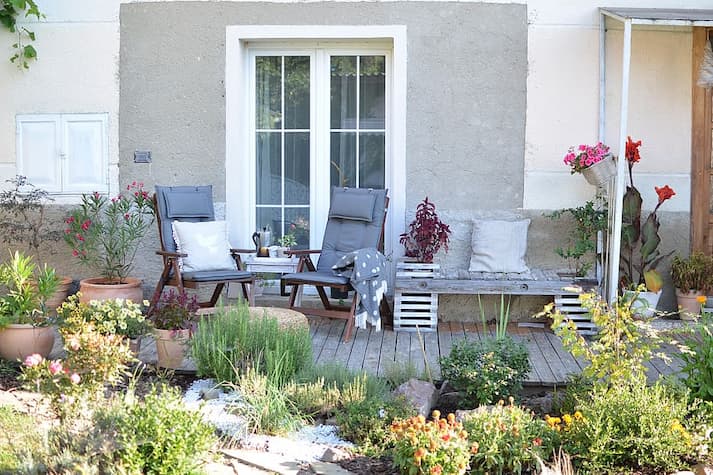 Are you planning to create a garden at home, Sobat Honda? If yes, sobat honda can consider using landscape garden design as the central concept, landscape gardens prioritize the beauty and balance of natural elements.
If Sobat Honda uses the right design, a landscape garden can become a delightful and aesthetically pleasing space in your home. If Sobat Honda still needs to figure out landscape garden design ideas, don't worry! We'll discuss them in more detail in this article. Let's dive into the information.
What is Landscape Design and its Benefits?
Landscape garden design is a conceptual approach that involves arranging elements such as plants, water, hardscape, and other decorative elements to create a beautiful and balanced garden. This design aims to serve as a recreational area and enhance the surrounding environment's aesthetics.
There are numerous benefits to having a well-designed landscape garden. An aesthetically pleasing garden can increase the aesthetic and property value. Additionally, a well-designed garden can provide environmental benefits such as improved air quality, habitat for wildlife, and reduced ambient temperature around the park.
To achieve a beautiful green space, it's essential for you, Sobat Honda, to care for the plants or grass in the garden. Regular lawn mowing is one crucial aspect Sobat Honda should pay attention to.
Sobat Honda can use Honda Power's lawnmower, equipped with exclusive technology and low noise levels, for a quicker and more convenient process. This way, mowing the lawn in your home garden won't disturb others.
Read Also: 6 Ideas for Arranging a Small Garden in Front of The House for Narrow Land
Landscape Garden Design Ideas
Sobat Honda, this article will help if you're seeking creative ideas for designing a beautiful and captivating garden. Illustrations will accompany each picture to help Sobat Honda visualizei it. From modern minimalist gardens to tropical-themed ones, we'll explain various landscape garden design ideas below, Sobat Honda. Without further ado, let's explore these landscape garden design inspirations for you to use as references.
1. Modern Minimalist Landscape Garden
A modern minimalist garden has a simple yet elegant characteristic. In this design, you'll typically plants with straightforward shapes and textures and minimalist hardscape materials like natural stones and concrete.
Sobat Honda can add grass to the garden area and its surroundings. White wooden fences will create an open and spacious impression in your home garden.
Select a few large plants placed in large pots to add decorative touches. As for smaller plants, let them grow directly in the soil. For added functionality, include benches, tables, and a barbecue grill to gather and enjoy family time in your garden, Sobat Honda.
2. Semi-Indoor Natural Minimalist Landscape Garden
Sobat honda can Create an open, spacious ambience in the semi-indoor landscape garden design by minimizing conspicuous plants and ornaments. However, maintain a green area differently.
For instance, Sobat Honda can use synthetic grass in the dining area while using natural marble for other parts. Light wood furniture dominates this design, providing a natural feel.
Plants are placed alternately with seating areas to create a sense of privacy and comfort. Besides wooden benches, Sobat Honda can add a brown-coloured sofa in a corner for relaxation.
3. Tiered Landscape Garden
A tiered garden is an excellent solution for limited space. Utilize the varying terrain to create different atmospheres on each level, Sobat Honda.
This landscape garden design is characterized by the dominance of wooden panels and natural rocks as flooring and stepping stones. Plants in this design are not excessive, with vertical plants placed on one side only.
The furniture used also has a natural touch, such as benches made of tree trunks, stone floors, and wooden fences. The design also considers the garden's diverse functions by providing a spacious area for gathering and other activities.
4. Paved Landscape Garden Variations
Paving can be an excellent choice for decorating garden areas. In this design, the paving is laid out in attractive patterns, creating a unique and distinctive visual.
Sobat Honda can also arrange medium and large-sized plants combined with natural stone paving floors of natural color. Then, add long benches, chairs, and tables to enjoy the garden, Sobat Honda
5. Garden Landscape on Limited Space
For those with limited space, Sobat Honda can still realize landscape garden design. In this design, using hanging plants, small pots, and vertical gardens can maximize the use of space.
To apply this design, Sobat Honda only needs to arrange various decorative plants of different sizes—small, medium, and large—in the garden. Also, creating a clear boundary between the grass area and the landscape garden is essential to highlight its beauty.
6. Tropical-Styled Landscape Garden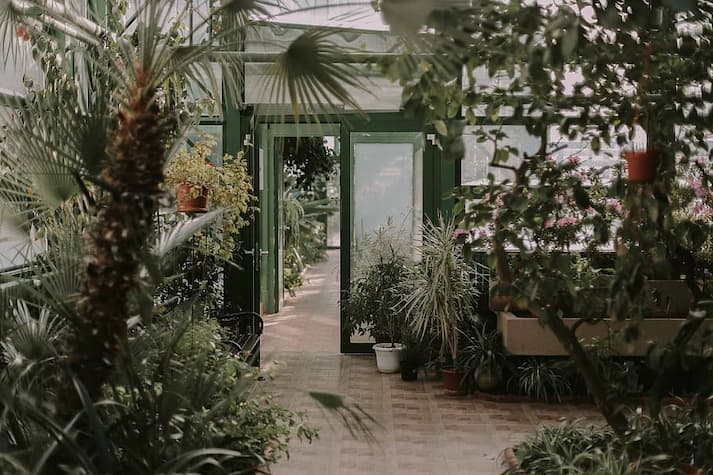 A garden with a tropical style has a fresh and natural nuance. To create this look, Sobat Honda can use plants with broad and green leaves characteristic of tropical climates, such as palms, bananas, and heliconias.
Adding an artificial waterfall or a small pond will provide a soothing atmosphere. Using natural materials like wood for garden benches adds warmth and brings nature into your garden.
7. Home with a Mini Garden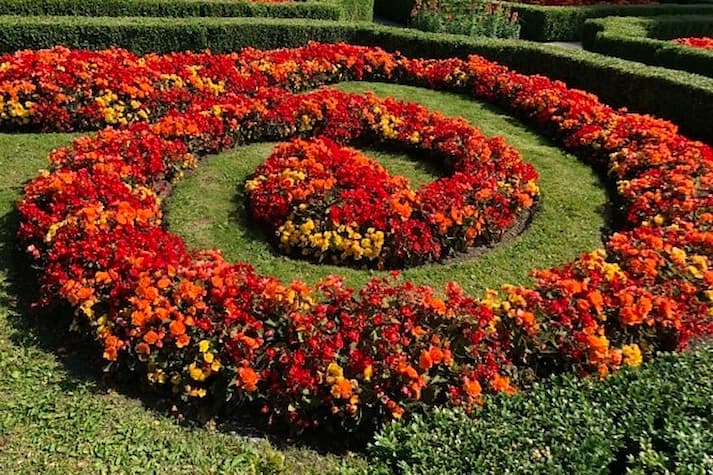 If Sobat Honda has space at home, Sobat Honda can still enjoy the beauty of a garden by creating a mini garden. In this design, small pots or plant racks placed on walls or balconies can be a solution.
Sobat Honda can plant various types of ornamental plants according to your personal preferences. This garden will bring joy and freshness to your home garden, Sobat Honda.
8. Decorative Ornamental Pond
An ornamental pond can be an attractive focal point in landscape garden design. Sobat Honda can use a flowing or plant pond with aquatic plants such as lotus or water lilies.
Using natural stones or wood as decorative elements around the pond will add a realistic touch to the overall appearance. Consider planting shade trees nearby as well. Sobat Honda can also grow Japanese grass around the pond for added decoration.
9. Landscape Garden with Vegetable Plants
Besides decorative elements, landscape gardens can combine farming functions by planting vegetables. This design blends the garden's beauty with the benefits of growing crops.
Sobat Honda can plant various vegetables, such as tomatoes, chillies, or lettuce, with an aesthetically pleasing and functional layout. Using hydroponic and aeroponic techniques, Sobat Honda can also use recycled items like bottles and pipes as planting media.
10. Mediterranean-Style Landscape Garden
If Sobat Honda wants a garden with a classic and elegant touch, the Mediterranean style can be a suitable choice. This design uses plants with small leaves and colorful flowers, such as lavender, bougainvillea, and roses, to create a Mediterranean look.
Using natural stones, terraces, and pavilions with classic ornamentation will enhance the garden's aesthetics—remember to plant short grasses like elephant grass around the park for a more aesthetic appearance.
Read Also: How to Clean the Brushcutter Carburetor Properly
Tips for Creating Landscape Garden Designs
Sobat Honda, several essential tips can help Sobat Honda achieve satisfying results when designing a stunning landscape garden. What are these tips? Let's explore them below.
Read Also: You Should Know the Types of Grass-cutting Machine Blades
1. Careful Planning
Before starting the landscape garden design process, create a well-thought-out plan. Determine the concept, area size, and types of plants to be used. A good plan will help Sobat Honda optimize the use of space and achieve the desired results. Sobat Honda can explore the landscape garden design ideas mentioned above as a reference.
2. Consider Environmental Factors
Consider the surrounding environmental conditions, such as sunlight, humidity, and soil types. Choose plants that are suitable for these conditions to ensure their healthy growth. Also, plan the garden layout for good water flow and optimal air circulation. If possible, ensure that sunlight can reach the garden area for optimal plant growth.
3. Choose Suitable Plants
Select plants that align with the landscape garden design concept Sobat Honda desire. Consider the plant's needs, including water and sunlight requirements, and their size when fully grown. Combining various plant types with different colours and textures can create a unique, attractive, and aesthetic appearance.
4. Use Hardscape Wisely
In addition to plants, hardscape elements like stones, wood, and paving play a significant role in landscape garden design. Use hardscape materials wisely to create appealing structures and patterns. Make sure that the use of hardscape complements the beauty of plants and adheres to the desired design concept.
5. Choose Appropriate Accessories
Add accessories like garden lights, sculptures, or chairs that fit the landscape garden design concept. These accessories will provide a personal touch and add aesthetic value to the garden. Ensure that the chosen accessories are weather-resistant and environmentally friendly.
6. Regular Maintenance
After completing the landscape garden design, remember to do regular maintenance. Perform pruning, watering, and fertilizing regularly to keep the plants healthy and the garden beautiful. Also, keep the garden area clean from unwanted leaves or debris to maintain its cleanliness.
For cutting plants or grass in the garden, Sobat Honda can use Honda Power's lawnmower equipped with twin blades for the best cutting results and neater grass.
Honda's lawnmower also comes with a bag that makes it easier for Sobat Honda to collect grass clippings more effectively. Your work will be much more efficient and less tiring, Sobat Honda.
So, discover the best and most reliable lawnmower that suits Sobat Honda needs at Honda Power Products now!
Honda Power Products Indonesia
Honda Power Products menyediakan mesin serbaguna, generator, pemotong rumput, pemotong sikat, pompa air, dan mesin tempel.
Related Posts