7 Creative Urban Park Designs in Indonesia
11 November 2023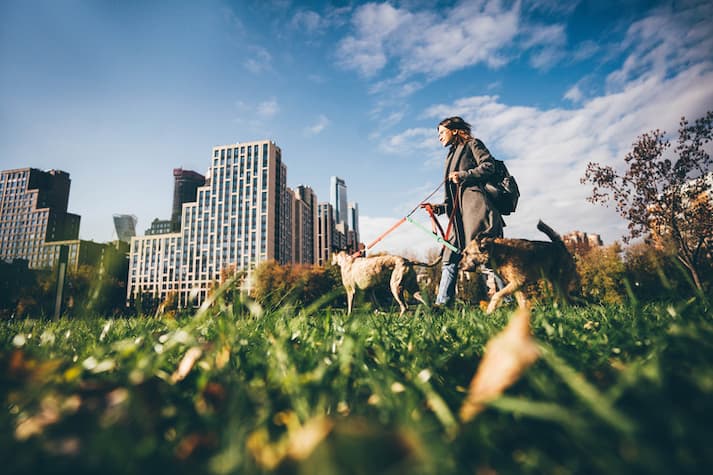 Indonesia is a land of wonders and can captivate the world with its extraordinary natural charm. But it's not just about nature; Indonesia also creates beauty within its bustling cities through amazing urban park designs. There are many urban park designs in Indonesia for Sobat Honda to discover.
From botanical gardens to grand parks, they are scattered throughout various regions in Indonesia. Urban parks aren't just green spaces nestled amidst busy city life; they are mirrors of Indonesia's rich creativity, beauty, and cultural diversity.
However, Sobat Honda should understand that maintaining the beauty of urban parks requires a quality lawn mower like those from Honda Power Products, which can make the job much easier.
These machines are designed with precision and high efficiency, making it easier for Sobat Honda to care for the grass and vegetation in urban parks. By using high-quality lawn mower, Sobat Honda can keep urban parks tidy and make them comfortable places for families to enjoy.
So, while exploring the wonders of urban park designs in Indonesia, it's a good idea for Sobat Honda to prepare for maintenance with a reliable lawn mower from Honda Power Products.
Understanding What an Urban Park Is
An urban park is a beautiful blend of nature and city life, designed to provide green spaces in the midst of urban hustle and bustle. It's not just an area filled with grass and trees; it's a place where people can connect with nature, relax, and participate in various social activities.
Urban parks are even more vital because they serve as "factories" of fresh oxygen in the midst of the urban noise. It's safe to say that urban parks are perfect for Sobat Honda if they seek tranquility.
Urban parks often feature various public facilities such as children's play areas, running tracks, artificial lakes, flower gardens, and comfortable seating areas. Moreover, urban parks are sometimes transformed into centers for cultural and artistic activities, hosting music performances or art exhibitions. So, urban parks aren't just open spaces; they are areas that reflect the culture and character of the local community.
7 Urban Park Designs in Indonesia
Urban parks can serve as creative spaces. If Sobat Honda is planning to create a park in the heart of the city, try to understand the various creative designs below!
Read Also: Home Front Garden Inspiration And Tips For Organizing It
1. Grand Park
Grand parks are frequently found in major cities across Indonesia. These park designs usually feature extensive landscapes and beautiful scenery.
They come equipped with walkways, children's play areas, and are often adorned with monuments or statues that pay tribute to historical figures. Grand parks are undoubtedly perfect places to gather with family or friends to enjoy the stunning cityscape.
2. Open Green Urban Park
Open Green Urban Parks are dominated by lush grass and dense trees. These parks offer a refreshing oasis amidst the hustle and bustle of urban life.
To complete the experience, they also feature sports facilities like running tracks, sports fields, or spaces for yoga. Sobat Honda will often see these parks bustling with locals, especially during the evenings.
3. Botanical Garden
Botanical gardens are a paradise for plant and nature enthusiasts. These designs showcase a wide variety of exotic plants, beautiful flowers, and rare flora.
Botanical gardens often include walking paths and information about the local flora and fauna to enhance visitors' knowledge. These parks are perfect for learning, exploring the wonders of nature, and feeling close to the environment.
4. Flower Park
In addition to diverse plant life, Sobat Honda can also enjoy parks filled with a variety of flowers. These flower parks exhibit the beauty and vibrant colors of various flower species.
They are often arranged beautifully, creating a stunning visual display. Flower parks are ideal for photography and a pleasant place to enjoy the fragrant aroma of flowers.
5. Tropical Urban Park
Tropical Urban Parks reflect Indonesia's warm and humid tropical climate. These park designs feature a wide range of tropical plants such as palms, bamboo, and other unique flora. They create an exotic natural ambiance within the bustling city, offering a unique experience for park exploration.
Read Also: 5 Benefits Of Cutting Grass That Sobat Honda Must Know
6. Historical Urban Park
As the name suggests, historical urban parks pay tribute to Indonesia's history and culture. These park designs are often specially crafted with statues and monuments to commemorate historical events or important figures who played a role in Indonesia's struggle for independence.
If Sobat Honda has an interest in history and wants to share it with the local community, creating a historical urban park is a fitting choice.
7. Arboretum Urban Park
Lastly, there are arboretum urban parks that document various tree species. These park designs are often used as centers for research and education about the trees that grow in Indonesia. These parks typically feature walking paths with information about tree species, their benefits, and how to care for them.
So, these are the various urban park designs Sobat Honda can find in different urban areas across Indonesia. They don't just enhance the aesthetics of a city but also provide ample space for creativity and activities.
With the diversity of urban park designs, Sobat Honda can experience the beauty of the fusion of nature and city life in Indonesia. However, don't just admire the beauty of urban parks; contribute to their upkeep.
Make sure Sobat Honda participates in proper maintenance by using advanced equipment like lawn mower from Honda Power Products. These machines are designed ergonomically for comfortable and safe operation, so there's no need to worry when using Honda Power Products' lawn mower Sobat Honda.
Honda Power Products offers the HRJ196 engine. This type of lawn mower can be found on the Honda Power Products website.
Furthermore, there are various other types of machines available to do your work in park and garden maintenance, as well as in agriculture, easily. Some of them include water pumps, generators, and multi-purpose machines to maximize machine performance.
Read Also: 5 Causes Of Vibrating Thrust Lawnmowers And How To Overcome Them
So, what are you waiting for? Visit Honda Power Products and find the high-quality lawn mower that suits Sobat Honda's needs!
We hope that the information about various urban park designs in Indonesia provided earlier will provide useful insights for Sobat Honda!
Honda Power Products Indonesia
Honda Power Products menyediakan mesin serbaguna, generator, pemotong rumput, pemotong sikat, pompa air, dan mesin tempel.
Related Posts