3 Parts of an Outboard Motor
21 November 2023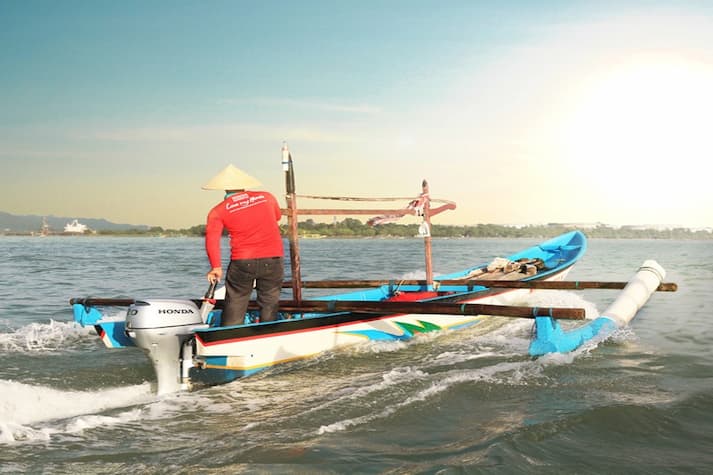 An outboard motor is one type of motor used in small boats or ships. This motor can only move the ship in the desired direction when its parts are working properly. Suppose Sobat Honda are planning to buy an outboard motor to increase the speed and stability of Sobat Honda boat.
In that case, the information in this article should be read to the end. So, Sobat Honda will not only make a purchase but also know every parts to use the outboard motor correctly.
Read also: What Are Modern Fishermen Used to Catch Fish?
What is an Outboard Motor?
An outboard motor is a drive motor that is intentionally mounted on the back of a small boat or ship so that it can move at the desired speed. The outboard motor serves as a replacement for human power or wind that was previously used to move the boat or ship.
Through the use of an outboard motor, the boat or ship can move faster. However, an outboard motor cannot move by itself. The right fuel is needed to make it move the boat.
The capacity of outboard motors varies, ranging from small to large. Small outboard motors are usually used in small boats, such as fishing boats. In contrast, larger outboard motors are used on passenger and cargo ships.
Outboard motors have various models and sizes that can be adjusted to the user's needs. When selecting an outboard motor, paying attention to the motor's capacity, fuel type, thrust, and user safety factors is important.
Therefore, before selecting and purchasing an outboard motor, it is advisable to research to find the best one. Honda Power Product can be one of the candidates Sobat Honda choose because they have been providing quality outboard motors for decades.
Their engines are known for being durable and reliable for long-term use. Visit Honda Power Product to find the best outboard motor for Sobat Honda.
3 Main Part of an Outboard Motor and Their Functions
The main part of an outboard motor may vary depending on the manufacturer. However, an outboard motor generally has three main components, which are explained below.
1. Engine
The engine is the main component that provides power to the outboard motor. Air and fuel are usually mixed in a gasoline engine before entering the combustion chamber. This mixing process is carried out by a carburetor or fuel injection system.
The mixture of fuel and air then flows into the combustion chamber, where it is compressed. This compression process creates an electric spark from the spark plug, which causes the piston to move in the correct firing order. The resulting combustion process generates power that is transferred through the crankshaft to the transmission.
2. Gearcase
The gearcase transfers power from the engine to the propeller or rotor. In an outboard motor, the gearcase can only be operated in forward and reverse due to the presence of forward and reverse gears in the gearcase.
3. Propeller or Rotor
In a four-wheeled vehicle like a car, the final drive uses wheels, but in an outboard engine, the final drive is the propeller or rotor. Propellers are typically made of aluminum alloy and stainless steel and come in various sizes to suit different types of boats.
Honda Power Product Outboard Engines
Honda Power Product offers a range of outboard engines with different capacities. Instead of struggling to find a high-quality outboard motor, purchasing one directly from Honda Power Product is better. Here are four outboard engines that Sobat Honda can choose from:
1. Outboard - BF20
The Outboard - BF20 is designed by Honda Power Product with modern and environmentally friendly specifications. This engine can produce sufficient power to efficiently move a small boat or ship.
Equipped with an electronic ignition system and a water cooling system, this engine can be used for long periods without the need for frequent refueling.
2. Outboard - BF50
There is also the Outboard - BF50, which is no less impressive than the previous outboard engine. The capacity of this type of outboard engine is even greater than before. All the engine components embedded by Honda Power Product in the Outboard - BF50 enable it to work to its maximum potential to meet Sobat Honda needs.
The ignition system used in this outboard engine is Microcomputer Programmed. It ensures excellent engine performance and responsiveness, making it easy to use. The engine has a capacity of 808 cc, producing maximum power of up to 50 HP/5,750 rpm.
Its usage also makes the fuel consumption when the engine is turned on very efficient. So, Sobat Honda don't need to worry about using an outboard motor that is wasteful like other engines on the market.
3. Outboard - BF90
Next, there is the Outboard - BF90 designed with higher specifications than the previous outboard engine. This engine has a 1,496 cc capacity and can produce a maximum power of up to 90 HP.
The engine type used is a 4-stroke, 4-cylinder engine with an efficient and environmentally friendly electronic combustion system PGM-FI. Equipped with an electronic ignition system and water cooling system, this engine has very efficient fuel consumption.
4. Outboard - BF250D
The Outboard - BF250D outboard engine from Honda Power Product is an outboard engine with very high specifications. This engine has a 3,583 cc engine capacity. It can produce a maximum power of up to 250 HP with VTEC (Variable Valve Timing and Lift Electronic Control) technology.
If Sobat Honda need an outboard engine with high power and performance, the Outboard - BF250D could be the right solution. This engine is even equipped with a trim and tilt system that can adjust the engine angle with the water's surface, resulting in better engine performance.
From the above explanation, it can be concluded that outboard motor parts are essential to ensure optimal and durable engine performance. Honda Power Product can be the right choice if Sobat Honda are looking for a quality outboard engine.
Honda Power Product has proven to be one of the leading brands in the engine industry. The available products clearly have high specifications and are supported by advanced technology to obtain an outboard motor with reliable performance.
Do not hesitate to contact the Honda Power Product team for more information and ordering. Get Sobat Honda dream outboard motor only from Honda Power Product today!
Honda Power Products Indonesia
Honda Power Products menyediakan mesin serbaguna, generator, pemotong rumput, pemotong sikat, pompa air, dan mesin tempel.
Related Posts