Tips for Choosing a Generator for Household Use, Don't Make Mistakes!
24 October 2023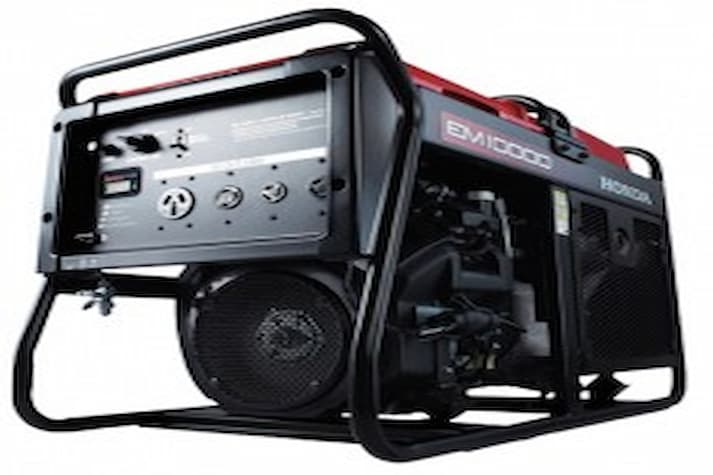 Dear Honda friend, are you looking for a household generator? A generator is the right solution to overcome power outages due to disruptions in the electrical grid. However, before buying a generator, you must consider several essential factors. Below are some tips for choosing a generator for household use that you should consider.
Tips for Choosing a Generator for Household Use
Choosing a generator for household use is challenging, especially if you are unfed to become more with the world of technology. However, a generator is an essential tool for meeting a household's electricity needs, especially during power outages or when additional power is required. Keep reading this article to learn practical and efficient tips for choosing a generator for household use.
1. Determine Power Needs
The first step before choosing a generator is to determine your home's power needs. Ensure you know the power requirements of household appliances such as refrigerators, air conditioners, televisions, and lights. It will help you determine the generator's capacity needed. Choosing a generator with a slightly larger capacity than your power needs is advisable to have a power reserve if required.
2. Choose a Portable Generator
Portability is essential for those who frequently use the generator in different locations. When choosing a generator, opt for one that is lightweight and easy to move around. Having wheels or handles on the generator will make it easier to transport, especially in hard-to-reach areas.
3. Learn How to Operate the Generator
In addition to selecting the right generator for household power needs, learning how to operate the generator correctly is essential. It is crucial to ensure optimal functionality and safe usage of the generator. Before operating the generator, read the user manual and operating instructions provided by Honda. It will help you understand the functions and proper operation of the generator.
4. Choose a Generator within Your Budget
Honda offers various types of generators for household use that you can choose from according to your needs. One thing to consider is to select a generator with the best quality and optimal performance that fits your budget. In addition, the price of a generator usually depends on the power requirements. Therefore, determine your home's power needs before choosing a Honda generator for a more accurate selection.
5. Choose a Reliable Generator Brand
Choose a generator from a reputable brand with a good reputation in the market. Honda generators are one of the trusted brands known for their reliability. By choosing a Honda generator, you can be confident in the quality and performance of the generator you use. Moreover, Honda generators are equipped with advanced technology and maximum power.
Recommendation for Household Generators
Now that you know the tips for choosing a household generator consider selecting one of Honda's generators equipped with the best technology. There are several types of generators with different capacities. Let's explore the complete descriptions below to learn more about their specifications.
1. Generator - EU10i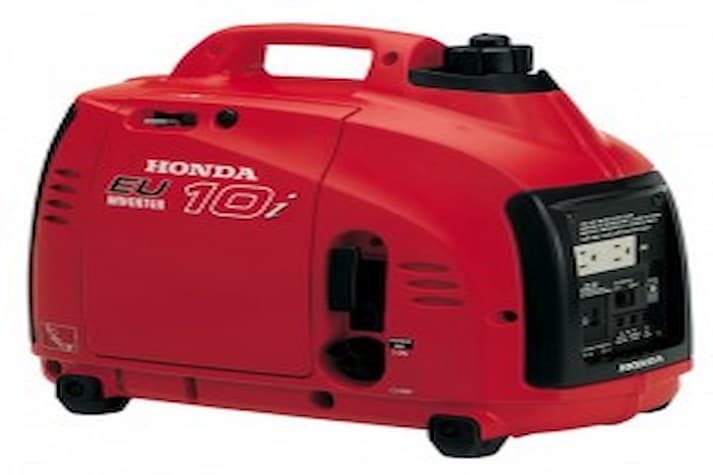 The EU10i generator is compact, portable, and operates quietly. The Honda EU10i generator is also equipped with inverter technology, making it fuel-efficient and environmentally friendly. This generator is highly reliable and suitable for household needs and outdoor activities such as camping or outdoor events. If you need a portable generator, this model is an excellent choice.
2. Generator - EU22i
The Honda EU22i generator is an excellent option for household electricity needs, recreational activities, and professional use with electronic devices. Despite its compact size, this generator delivers outstanding performance.
The Honda EU22i generator, equipped with inverter technology, produces stable and consistent electrical power, making it safe for electronic devices that require a constant power supply. It operates quietly, minimizing disruptions in the surrounding environment. The EU22i generator can provide a maximum power output of 2.2 kW at full speed.
3. Generator - EU30is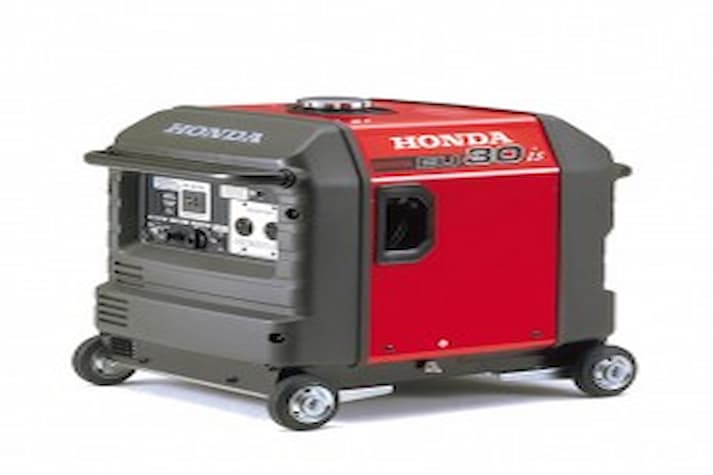 The Honda EU30is generator features an eco-throttle feature that adjusts the engine speed according to the electrical load demand. As a result, it improves fuel efficiency and reduces noise as the engine doesn't operate at total capacity when not needed.
Additionally, the Honda EU30is generator is equipped with inverter technology controlled by a microcomputer, ensuring the generated electricity is of commercial quality. Therefore, it suits frequency-sensitive electrical equipment like computers or other electronic devices.
The EU30is generator can deliver a maximum power output of 3 kW at full speed and 2.6 kW at a low rate. It also comes with output power indicators, oil alerts, and overload protection, allowing you to monitor its real-time performance.
Considering its outstanding features, the Honda EU30is generator is an ideal choice for household electricity or outdoor activities requiring high-quality electrical power with high fuel efficiency.
4. Generator - EU70is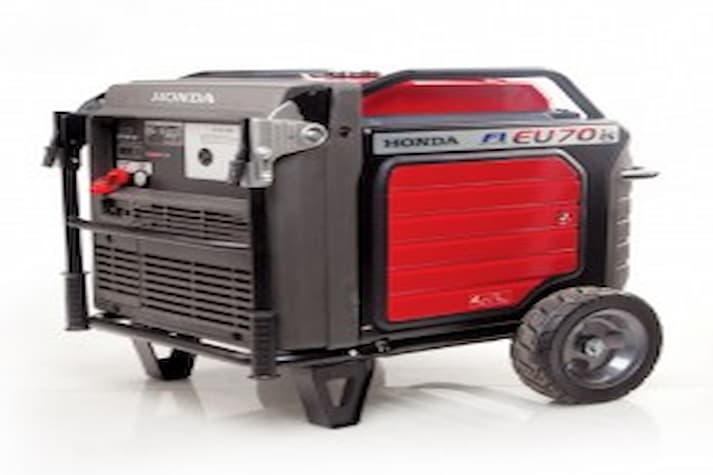 The Honda EU70is generator features a reliable and fuel-efficient GX390 4-stroke engine. It also incorporates an Electronic Fuel Injection system, ensuring accurate fuel delivery based on the electrical load requirements.
With its engine and fuel system technology combination, the Honda EU70is generator can produce a maximum AC output of 7,000 watts and an average output of 5,500 watts. As a result, it is an ideal choice for backup power in homes or outdoor activities requiring significant electrical power.
The EU70is generator delivers reliable and stable power output over extended periods. It is suitable for outdoor events and a backup power source for homes.
5. Generator - EP1000 R
The Honda EP1000 R series generator with 0.75 kVA is ideal for household electricity needs. In addition, the generator offers fuel efficiency, helping you save on expenses.
Depending on the load used, it can operate for 6.7 hours on a single fuel fill-up. The EP1000 R generator provides a power output of 0.75 kVA, ensuring optimal and efficient performance.
6. Generator - EG1000 R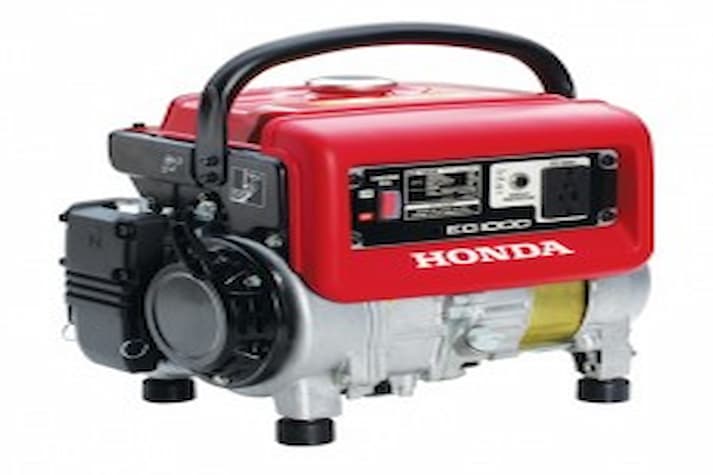 The EG1000 R generator from Honda, with a power output of 1 kVA, offers high efficiency and environmentally friendly advanced technology. Moreover, it has a simple yet robust design, providing undeniable advantages.
With its innovative features, this generator is suitable for meeting your household electricity needs. With sufficient power to operate household appliances, the one kVA generator from Honda is ideal if you prioritize efficiency and optimal performance.
7. Generator - EP2500CX
The Honda EP2500CX generator is a highly reliable unit. Equipped with the legendary GX series engine, this generator is easy to start, powerful, and user-friendly. You can rely on this generator for its ease of use, simple controls, and up to 13 hours of operation at an average load. The EP2500CX generator is suitable for households or small businesses requiring a reliable and efficient backup power source.
8. Generator - EZ3000CX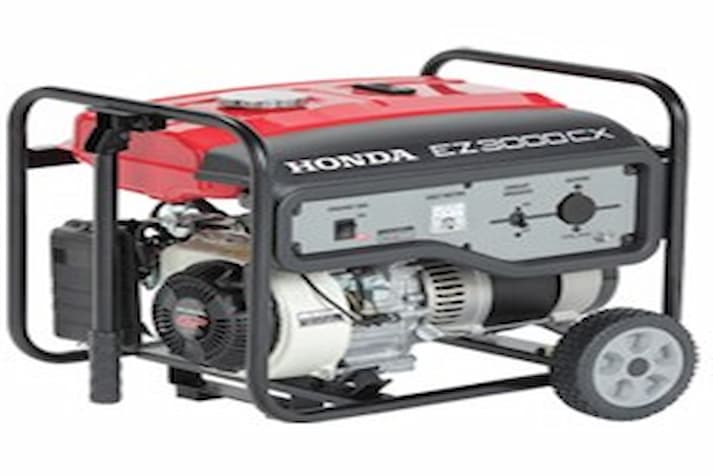 The Honda EZ3000CX generator is a reliable, affordable option for light loads. In addition, it comes with basic Honda features that facilitate maintenance and easy starting. This generator is safe to use, produces low vibrations, and is made from high-quality materials. Therefore, the Honda EZ3000CX generator is suitable for construction professionals, home use, and other applications.
9. Generator - EZ6500CXS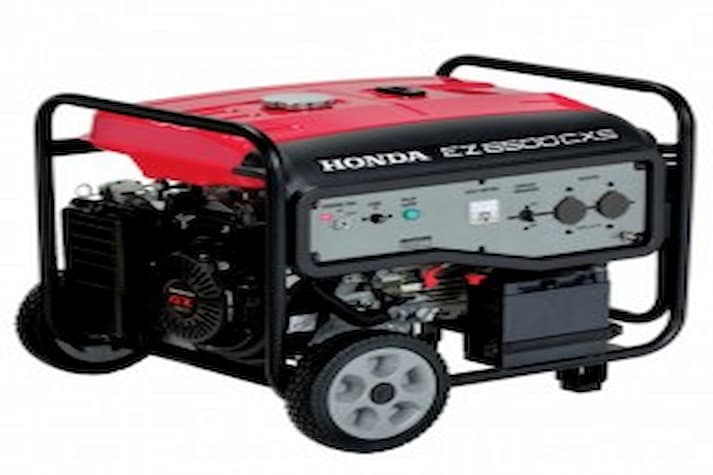 The Honda EZ6500CXS generator is designed for long-term usage and can be relied upon even under the most challenging working conditions. It is easy to maintain, start, and use safely. With low vibrations and high-quality materials, this generator is the perfect work partner for construction professionals, home use, and more.
For daily use, the EZ6500CXS generator is an ideal solution. If you require higher power output and affordable pricing, the EZ6500CXS is the right choice due to its proven reliability, fuel efficiency, and low vibrations.
10. Generator - EG6500CXS
The Honda EG6500CXS generator offers economical and reliable portable power. With a capacity output of 6500 watts, this generator provides stable and reliable electrical power for various needs. Its robust design and fuel efficiency make the EG6500CXS generator suitable as a backup or the main power supply when the utility power is disrupted.
11. Generator - EM10000
The Honda EM10000 generator is an 8kVA gasoline generator equipped with an electric starter, making it ideal for household needs and small to medium-sized businesses. The presence of a critical starter feature makes its usage more convenient. Additionally, with a noise level of 99.3 Lwa, this generator is one of the quietest in its class and delivers excellent power output.
12. Generator - ET120000
The Honda ET12000 generator is equipped with an integrated 4-stroke engine, significantly enhancing stability. With its gasoline fuel, the Honda ET12000 generator offers distinctive design, safety, quality, and flexibility. It also features an easy electric ignition system.
These are some of the recommended Honda household generators with varying capacities and features. You can choose the one that best suits your needs based on power requirements, portability, fuel efficiency, and budget.
Read also: 10 Honda 4 Stroke Generator Recommendations
Why Choose Honda Generators?
It would help if you chose Honda generators for your household electricity needs for several reasons. But first, let's explore the advantages of Honda generators below:
1. Reliability and Quality
Honda generators are known for their reliability and high-quality construction. Honda generators deliver optimal performance and durability. Their dependable nature makes them a trusted choice for a wide range of environments, including both household and business applications.
2. Fuel Efficiency
Honda generators are equipped with inverter technology, which enhances fuel efficiency and reduces emissions. By choosing a Honda generator, you contribute to environmental conservation by minimizing harmful gas emissions.
3. Warranty Coverage
Honda generators come with official warranties that provide coverage for any issues or damages that may occur. This warranty gives users peace of mind, knowing that they are protected in case of generator malfunctions or failures during operation.
4. After-Sales Support
Honda provides excellent after-sales support to its customers. It includes technical assistance, availability of genuine spare parts, and regular maintenance services. In addition, Honda's commitment to customer satisfaction ensures a smooth ownership experience for generator users.
Read also: 11 Ways to Properly Maintain a Genset
Considering these factors, you can make an informed decision when choosing a Honda generator that meets your needs. It's essential to assess your power requirements and match them with the appropriate capacity of a Honda generator.
To explore the detailed specifications of Honda generators and find the best fit for your needs, visit the Honda Power website. Discover reliable and trusted Honda Power Products that cater to your electricity needs today!
Honda Power Products Indonesia
Honda Power Products menyediakan mesin serbaguna, generator, pemotong rumput, pemotong sikat, pompa air, dan mesin tempel.
Related Posts