The Honda Water Pump Capacity Table
23 October 2023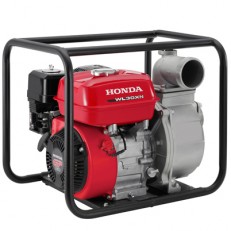 Are you going to use a water pump for irrigation? Then, you need to adjust the water pump to its capacity according to your necessary. You can check the water pump capacity table before deciding to use the water pump. So, you can easily adjust the water volume when doing irrigation.
Especially when you will be irrigating rice fields, knowing the water pump capacity is very important. But, you also need to know the size of the rice field or garden that will rinse so that the calculation between the required water and the water pump capacity can be more accurate. To learn more about water pump capacity, see the information below.
What is The Pump Capacity?
Pump capacity is the maximum amount of irrigation the water pump can use per unit of time. Express the pump capacity in liters or gallons. You can easily calculate the water pump capacity required for the irrigation process.
There are various water pump capacity options, ranging from 10 liters per minute, 18 liters per minute, 29 liters per minute, and so on. The suction head distance usually adjusts the water pump capacity. Therefore, the farther the pump is sucked into the water, the lower its ability will be.
Choose the water pump capacity that suits your needs. For example, choose a large-capacity water pump that can flow a lot of water if you need it. Also, to finish irrigation quickly and easily, you can select a pump with a fast suction power for a certain depth.
As an illustration, a water pump with a capacity of 10 liters per minute can supply 600 liters of water in one hour. Meanwhile, you can describe the pump's suction power in units such as 110 seconds per 5-meter depth.
Read also: Types of Irrigation Water Pumps from Honda and How They Work
Honda Water Pump Capacity Table
Checking the Honda water pump capacity table can help determine the water pump you need and the land area that will rinse. So you can adjust the water pump needs and irrigation land requirements accurately. The following is a table of Honda water pump capacities you can adapt to your land needs.
| | | | | |
| --- | --- | --- | --- | --- |
| Water Pump Type | Suction Hole | Discharge Hole | Maximum Irrigation Capacity | Self Feed Time |
| Pompa Air WB20XN NF | 50 mm | 50 mm | 670 liters per minute | 110 seconds per 5 meters |
| Pompa Air WB30XN NF | 80 mm | 80 mm | 1.100 liters per minute | 150 seconds per 5 meters |
| Pompa Air WL20XN NF | 50 mm | 50 mm | 670 liters per minute | 110 seconds per 5 meters |
| Pompa Air WL30XN NF | 80 mm | 80 mm | 1.100 liters per minute | 150 seconds per 5 meters |
Read also: 5 Best Water Pump Engine in Early 2023
How to Read the Table
From the above water pump capacity table, you can adjust the maximum irrigation capacity that you want to use to flow water to the plantation or rice fields for optimal performance.
In this case, you can ensure the pressure of the water flowing from the pump, whether high or low. Because if the water pressure is low, the irrigation process can take longer.
For example, the type of water pump WB20XN NF with a suction hole and a discharge hole of 50 meters each can flow a maximum of 670 liters per minute. So you can pour water faster into the plantation.
If calculated per hour, this type of water pump can supply 12,000 liters of water in one hour so that the irrigation process can finish quickly. The maximum irrigation capacity increases the water flow rate that is provided.
The self-feed time is the water suction at a certain height. For example, the type of water pump WB20XN NF can attract or suck water in 110 seconds for a depth of 5 meters. The faster the time required to suck the water, the faster the water pump process produces the water flow rate required for irrigation.
Furthermore, the suction hole on the water pump is also significant, making it easier for you to get the desired volume of water.
Knowing how to read the above table will help you more easily determine the water pump capacity for irrigation. So you can decide if using one water pump or more is better.
Reading the capacity table of other types of water pumps is the same. However, one crucial thing you should be aware of is the size of the rice field or plantation that will be rinsed.
So, you can be more accurate in determining the water pump in terms of discharge hole, suction hole, maximum irrigation capacity, and attraction per certain height.
In addition to the specifications in the above table, Honda's water pump is equipped with exclusive technology, reliable features and details, and designed with strong components of the iron impeller housing. Not only that, but a commercial-class 4-stroke Honda engine also supports Honda's water pump.
Honda's water pump is also effortless to use. In addition, it is fuel-efficient, has low emissions, and is durable. Another advantage of having a Honda water pump is a one-year warranty and SNI certification.
Find the best and most reliable water pump according to your needs only at Honda Power Products. Contact us now for more information.
Honda Power Products Indonesia
Honda Power Products menyediakan mesin serbaguna, generator, pemotong rumput, pemotong sikat, pompa air, dan mesin tempel.
Related Posts