Don't worry, Here are Tips for Being Safe When The Lights Go Out
13 November 2023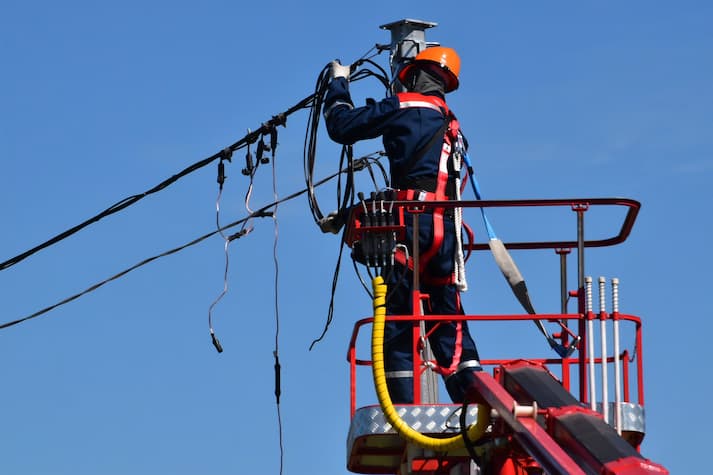 Electricity is no longer a secondary need in human life. Its existence makes all activities at home, office and various other places much easier and more comfortable. But what if the electricity suddenly goes out and all of the electronic devices cannot be used? Are there any other tips when the lights go out that Sobat Honda can definitely do safely?
When this happens, make sure Sobat Honda knows what needs to be done to protect themselves. The reason is that there are irresponsible people who want to use this opportunity to carry out crimes.
One way to prevent this from happening is to have a reliable generator. Owning a generator machine will keep the lights in Sobat Honda house on so that the criminals don't dare approach.
The fact that Sobat Honda has a trustworthy generator also means that they may carry on with their regular activities. If Sobat Honda are having trouble deciding which generator to buy, they may want to consider Honda Power Product's generators.
Honda Power Products provides so many various specifications to meet your needs, so that Sobat Honda can also immediately choose the most appropriate one. Apart from owning a generator machine, let's find out more tips that Sobat Honda can prepare for when a power outage occurs.
Causes of Blackouts
Let's examine some of the typical reasons for lights out in more detail before Sobat Honda continues with advice for when they go out. Sobat Honda can be more ready to handle any emergency scenarios that may arise by having a comprehensive grasp of them. The numerous reasons for blackouts are fully explained in the paragraphs that follow.
Read Also: What Is Short Circuit? Causes And How To Overcome It
1. Electrical Conflict
Electrical interference is the primary reason that is frequently experienced. The electrical company or the wiring infrastructure surrounding Sobat Honda home may be the source of this interference. Power outages can be brought on by a number of things, such as the energy provider not performing routine maintenance, the electrical infrastructure being damaged, or planned outages for repairs.
2. Extreme Weather
The extreme weather such as storms, lightning or strong winds can also cause power outages. When bad weather hits, the electrical infrastructure can often be damaged. The lightning can also cause electrical disturbances by hitting power lines or other electricity supply facilities. Then the presence of storms with strong winds can also damage the power cables and cause blackouts.
3. Electrical Overload
Electrical overload occurs when too many electronic devices are turned on at one time and exceed the available power capacity. This can of course trigger a power outage as a system protection measure.
Read Also: Ways To Save Electricity At Home
4. Cable or Switch Damage
Damage to electrical cables or switches in or around Sobat Honda house can also be a cause of the blackouts that need attention. Sometimes, the worn wires or a faulty switch could definitely interrupt the flow of electricity. This can also occur due to the cable age or the excessive use.
When the Lights Go Out, Here Are 8 Tips you Can Try
A blackout cannot be allowed to occur for a long time. That's why Sobat Honda need to do careful planning so they can face this without panicking. Try following some practical tips which will be explained below Sobat Honda!
1. Prepare The Emergency Supplies.
Try to make sure Sobat Honda has the essential emergency supplies when the power goes out. A power bank that is completely charged, candles, lighters, and a flashlight are included with this kit. During a power outage, these various pieces of equipment will keep Sobat Honda safe and comfortable.
2. Turn off Electronic Devices
In order to not overload the electrical system when power returns, it is important to immediately turn off all electronic devices. That means all electronic devices such as lights, computers, TVs, refrigerators and other equipment need to be unplugged.
3. Keep Kids Safe
Make sure your children are always watched over by Sobat Honda. When there is a power outage, give kids age-appropriate toys or entertainment to keep them occupied and safe.
4. Check Food Inventory
Take a look at the Sobat Honda' food and water supply. If the power loss lasts a while, make sure Sobat Honda has enough provisions for several days. However, it is best for Sobat Honda to have bought a variety of instant meal items that are simple to cook before this occurs.
5. Contact the Electricity Provider
If the blackout lasts a long time and Sobat Honda doesn't know the cause, don't hesitate to contact the electricity provider. Direct information from the electricity provider will definitely let Sobat Honda know what needs to be done to overcome this. Usually the electrical service provider will also provide an estimated restoration time.
6. Avoid Energy Waste
During a power outage, use the light and energy sources at home wisely. If the lights go out during the day, Sobat Honda doesn't need to turn on a flashlight or candle for supplies at night.
7. Increase Security
Sobat Honda must always be aware of numerous potential threats whenever there is a power outage. Sobat Honda in particular needs to make sure that they and their families are safe at home.
Therefore, simple actions such as locking doors and windows are very important, because this can help reduce the risk of crimes that could occur.
8. Consider a Honda Power Products Generator
Buy a Honda Power Products generator machine as a long-term remedy for blackouts. Sobat Honda will definitely have access to a reliable backup electrical supply when needed and thanks to this high-quality generator machine. Sobat Honda can also continue to function in the event of a power outage by having a reliable generator from Honda Power Products.
Read Also: 6 Ways To Find Out The Source Of An Electric Short Circuit
Those are some tips when the lights go out that Sobat Honda can definitely do. Please remember to make preparations so that Sobat Honda can face power outages that may occur in the future.
Naturally, don't neglect to purchase a trustworthy generator from Honda Power Products. Sobat Honda doesn't have to be concerned about losing vital electricity supply. Sobat Honda may make the generator as a long-term investment because Honda Power Products are known for their quality and dependability on a global scale.
Does Sobat Honda need a large generator capacity? Of course there is! For the best generator machine needs, simply visit the Honda Power Products website.
Generators from Honda Power Products have a great design that makes them safe and comfortable to use. Even inverter technology has been fitted to guarantee optimum performance with economical fuel usage.
So why are Sobat Honda still waiting? Only at Honda Power Products Sobat Honda can get the generator for your needs!
Honda Power Products Indonesia
Honda Power Products menyediakan mesin serbaguna, generator, pemotong rumput, pemotong sikat, pompa air, dan mesin tempel.
Related Posts